What is Proforma Invoice & How to Make Proforma Invoice (+Template)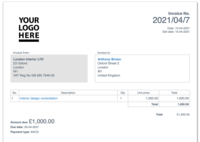 Before you roll up your sleeves and get down to work, you always have to receive your client's consent on the final price and the amount of products or service to be delivered.
To get one, you can use email, call a client, or send a private message asking to confirm your suggested conditions. However, those methods are not so effective as sending one simple proforma invoice. Why?
Because it offers a more detailed breakdown of the services you are about to provide — thanks to it, your client is informed on all key details and will give agree on a deal faster.
So what are the specifics of a proforma invoice and how can you make one? We will take you through the process in this article.
What is a proforma invoice?
A proforma invoice is an estimate or a preliminary bill you send to a client. This document is not used to request a payment, but to agree on a deal conditions with a buyer.
The content of a proforma invoice are not much different from what a sales invoice would include — a preliminary bill usually includes seller and buyer details and list products, their amount, and prices.
In a nutshell, a proforma invoice is a document with a seller's declaration to provide goods and services at an agreed price to a buyer. However, as far as this document is not legally binding, it is not recorded in sellers' and buyers' books.
How to make a proforma invoice?
Your proforma document should include the same information you would add to your sales invoice, with small exception. When creating your proforma invoice, remember to include the following details:
the term "proforma invoice"

invoice number

issue date of a proforma

buyer's and seller's contact details such as company name, company number, address, VAT ID (if applicable), address

date of issue

due date

product description of the items being sold

net and gross prices of the items on your proforma invoice

total amount due

tax rates

shipping information

shipping cost

any applicable discounts
You can also consider adding the information on the time for which the prices are valid. In certain sectors, prices are dynamic and change fast — just think of the oil or wheat as an example. If that's the case for your business, reserving yourself the right to change prices if a client doesn't approve a deal in a timely manner, can save you your margins.
When should you send a proforma invoice?
You should send a pro forma invoice ahead of sending a final business invoice. In fact, sending a proforma invoice saves time for creating an invoice. By using InvoiceOcean, you can make a final commercial invoice once a proforma invoice is created with just one click.

If you are using DIY invoices in Excel or Word, prepare for a more time-consuming process of creating proforma and final sales invoice as you would have to re-enter data manually.
Best practices for handling proforma invoices
Include the most important information on a proforma invoice such as invoice number, goods or services to be sold, their quantity, gross and net price, billing address, a disclaimer "This is not a tax invoice" — be as detailed as possible. Don't forget to add the date on the invoice.

If you buy products or services and receive a proforma invoice, don't record it in accounts payable, because you haven't made a purchase yet.

If you sell goods or services, the moment of sending a proforma invoice shouldn't mark the time of adding this invoice to your accounts receivable — the sale hasn't happened yet.
Making a typical proforma invoice in Word or Excel
Word and Excel proforma invoice templates are still in use. For some business owners, online invoicing software remains too complex and overwhelming. That is why some companies would still use invoice books and send manual entries to their accountants at the end of the accounting year.
For accountants, it usually creates additional work as they have to input all notes in their accounting software once again. As a result, it raises the cost of accounting services and creates an unnecessary paperwork for a business owner.
Here is the thing — you don't have to use complex accounting tools or software. Instead, choose a simple invoicing tool to create, record, and track all invoices that you send. This way, you can improve document management and reduce paper work that you would otherwise face when creating your invoices in Excel or Word.
Using a professional proforma invoice template
Word and Excel proforma invoice templates will never look as professional as the invoices you would create in an invoicing tool.
Check for yourself — here is a visual effect you can achieve with your proforma invoices in InvoiceOcean.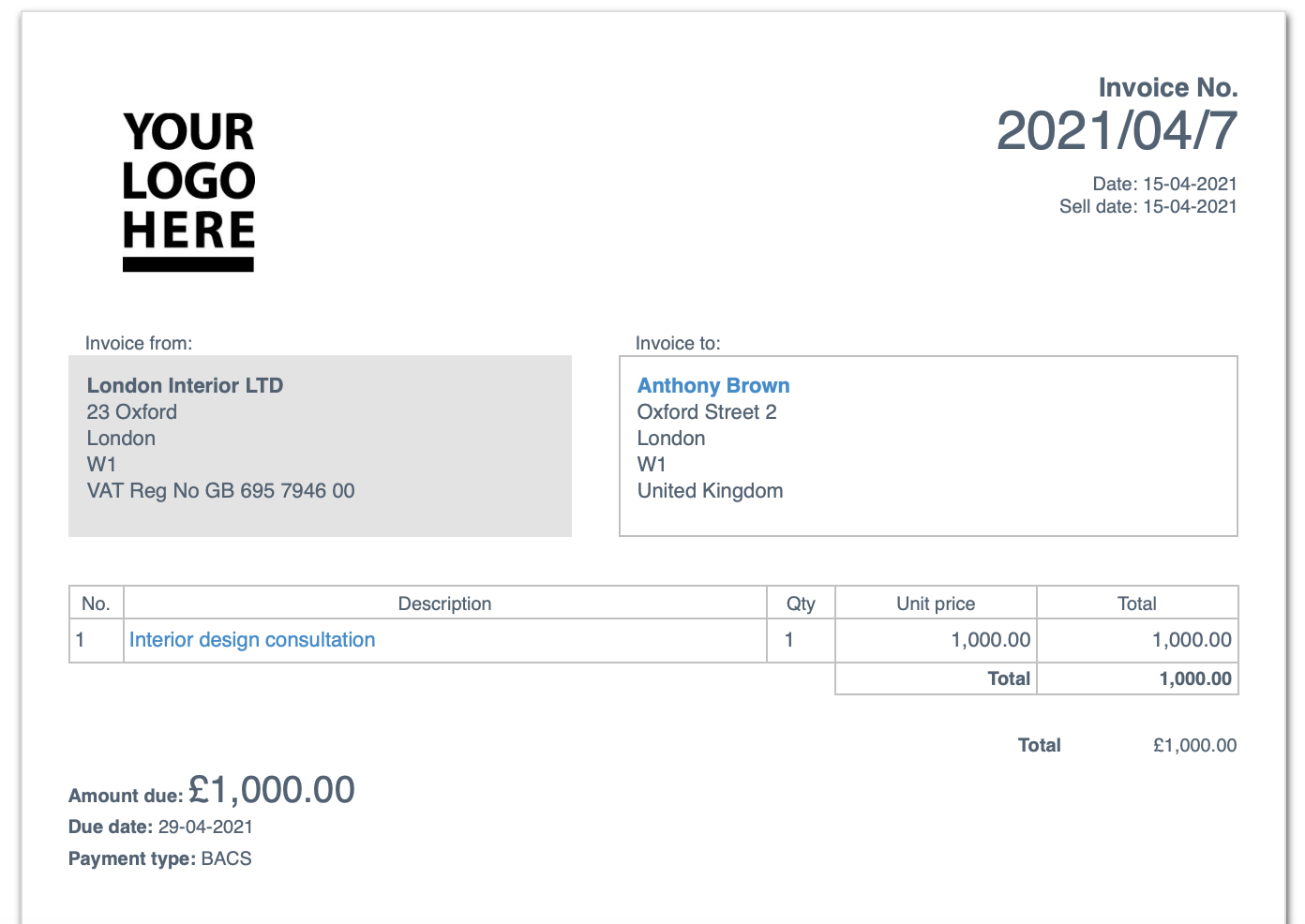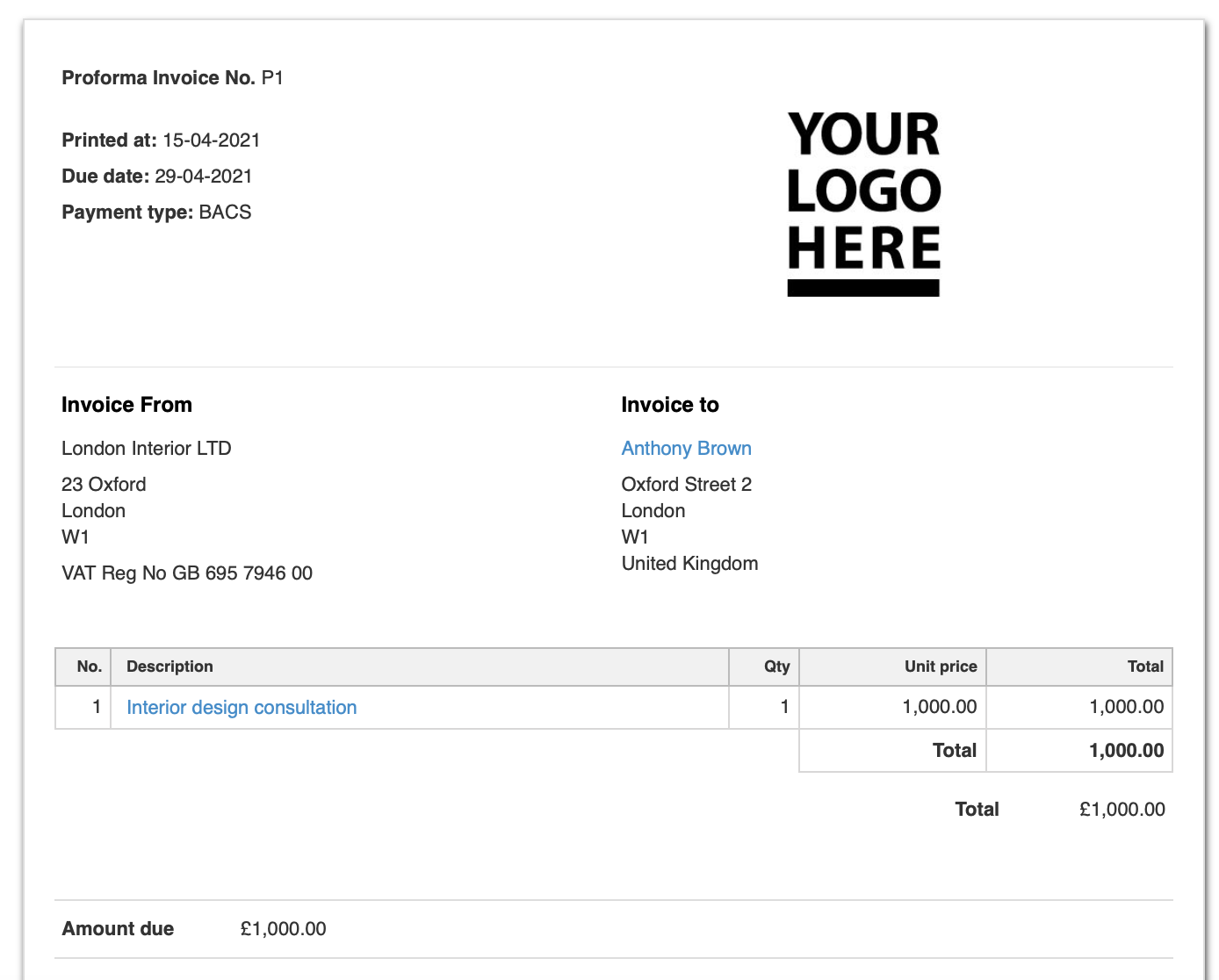 Use professional proforma invoices for free
Here are some other benefits of using proforma invoices in InvoiceOcean:
Save time on manual sending — send proforma invoices directly from a panel

Convert a proforma invoice into a final invoice with just a click

Organize your proforma documents using client panel

Copy and send short links leading to a proforma invoice to clients
How to create a proforma invoice in InvoiceOcean?
There are just two steps to start using InvoiceOcean proforma invoice templates.
Step 1. Enable proforma invoice in your account settings.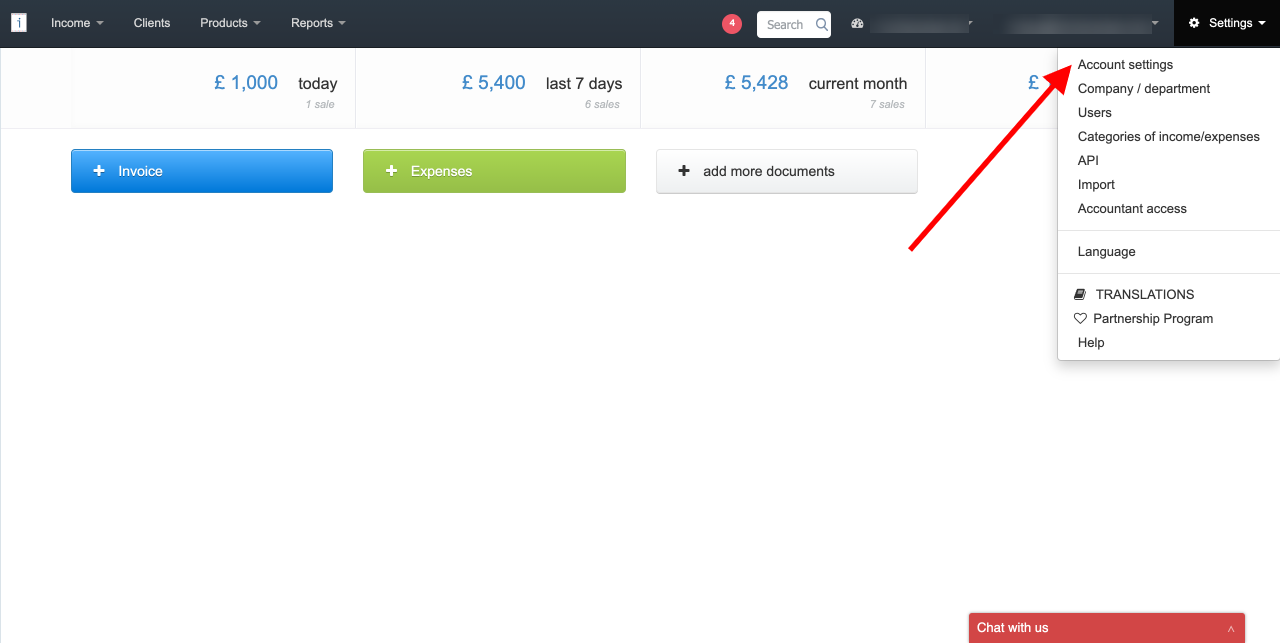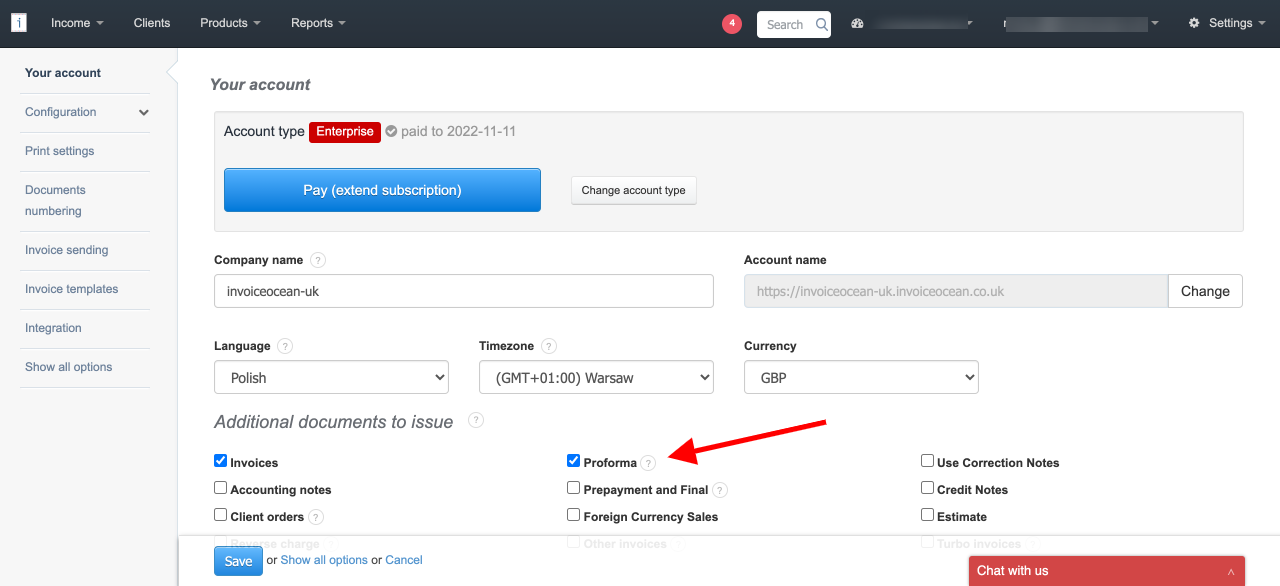 Step 2. Create a new proforma document from your dashboard.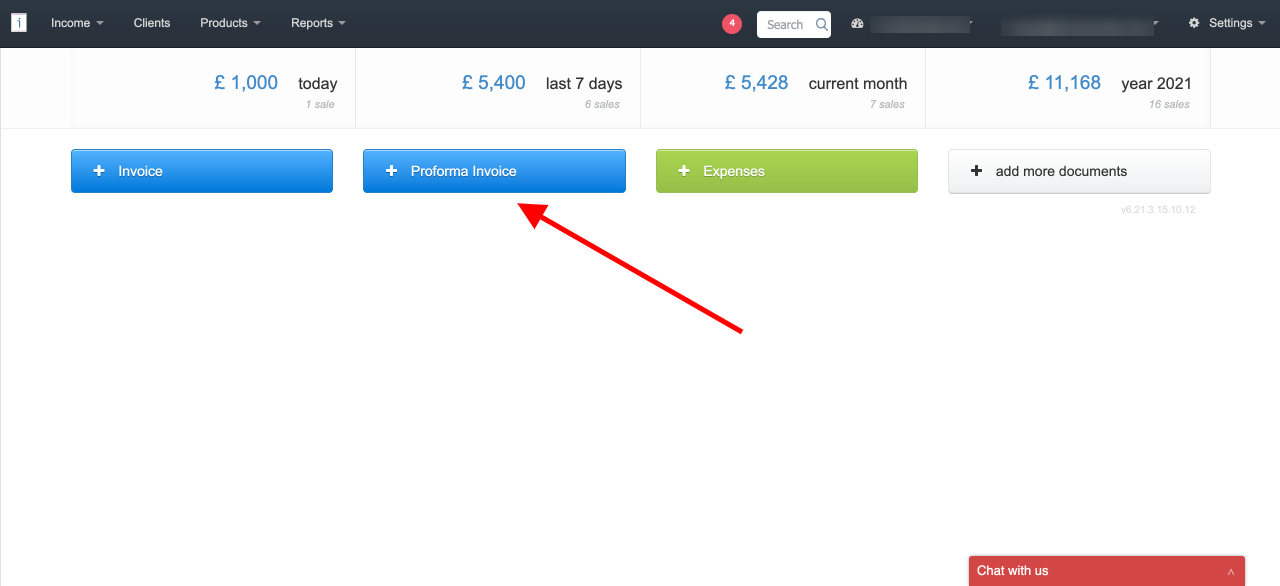 Frequently asked questions about pro forma invoices
When should you use a proforma invoice?
There are several situations when you should use proforma invoice instead of regular (final) invoices for your customers.
Here is a number of reasons why you have to use a proforma invoice:
Show a client what to expect – outline the terms and conditions of your future transaction. By stating final prices, dates, and payment conditions your client won't be taken by surprise with your invoice and cost.

Agree on the final price – mention the price for each service including any applicable discounts and taxes.

Let your client know about delivery dates – include the information on when your client can expect the service or product to be delivered.

Inform about all goods and services to be delivered – outline all goods and services that you are going to provide

Payment terms – mention the payment type that you want your client to pay

Declare the value for customs  – especially important for international delivery as it will ensure a fast dispatch of your goods at the border.

Prevent any possible disputes – by stating terms and conditions of delivery and sales, dates and cost you can prevent any misunderstanding that can arise when transaction for a invoice has to be made.
Is proforma invoice legally binding?
Proforma invoice is not legally binding the way a final sales invoice is. You make proforma invoice before you deliver goods or services provided and they become a starting point for negotiations with a customer or kicks off a sales process.
Your client may agree for the terms of proforma invoice and ask you to proceed with delivering services or decide to renegotiate conditions. At this point, this document doesn't serve as a legally binding agreement and you don't request payment yet — it's only a good faith agreement.
What is the difference between a proforma invoice and a sales invoice?
The first question you can have when looking for proforma definition is how proforma invoices are different from a traditional sales invoice. 
This document is not legally binding and can not be considered as a final commercial invoice you send to a customer. Proforma invoices are sent before a sales invoice that customers have to pay for. There are certain business circumstances that require us to send proforma invoices such as making sure a buyer and a seller are on the same page in terms of the the deal's conditions.
Remember that proforma invoices are not VAT invoices and can't be a basis for reclaiming VAT.
That is why on your proforma invoices, you should also add the information "This is not a VAT invoice".
An invoice and a proforma invoice serve different purposes and are used with different intentions — that's the key difference between the two. Final invoices are used to ask a buyer to pay for the goods or services rendered, while a proforma invoice serves a purpose of listing goods and services sold as well as the price. When a customer receives an invoice, they can negotiate conditions of a sale — this marks the start of the sales process.
Proforma Invoice is never used for accounting purposes, while invoices are an important accounting document.
Do I really have to send proforma invoices?
International trade is the domain where this document type is the most widespread. If you work a lot with imports and experts, the chances are high that you process proforma documents quite often when dealing with these aspects.
According to the US law, if a business is not able to provide a sales invoice at clearance point, they have to hand over a proforma. It's also stated that the time for issuing a commercial invoice in this situation should not exceed 120 days.
When goods are imported, at the customs clearance, this document is often used by customs officials to determine what taxes and duties a business should pay. To spend less time waiting for goods to go through the customs, you can use proforma invoice to understand what tax you have to pay and can pay it before your goods arrive.
Final notes about proforma invoice
While proforma invoices are not necessary in all situations, your business may need them especially when you want to be on the one page with your business partner before sending a final invoice. There are multiple templates that your can use – those in Excel and Word. However, using a professional invoicing tools offers the fastest and easiest way of creating and sending invoices — test it out!

---
---
//