How to Start a Business – 10 Useful Tips to Set You Up For Success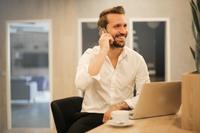 Every fifth company in the U.S. fails within the first year. While quitting your nine-to-five job can be tempting, starting a new business requires a lot of effort. As the first year is the most critical for your new venture, we want to equip you with the right tools and strategies to navigate it with ease.
Setting up a business: where to start?
Every entrepreneur once started somewhere. Don't look for a magic recipe for success, because it doesn't exist! Success in business is influenced by many factors, which not everyone has to know at the beginning. What should you look for when you want to start as a first-time business founder? 
There are many resources you can rely on such as a complete guide on how to set up a business. Also, read through these tips we have prepared for you to help you navigate the process of setting up your business and managing your cash flow.
1) Understand your strengths and weaknesses as an entrepreneur
Starting a business involves stepping out of your comfort zone and trying something new. However, working on your project can give a lot of satisfaction and can help you grow. So it's worth understanding the motivations for starting a new venture to learn what will keep you working hard until you see first results. 
Are you tempted by being your own boss, leading a flexible lifestyle and fulfilling your passions? Or are you driven solely by making money and being financially independent?
Sometimes, desire and passion alone are not enough – you need to define what you require of yourself as an entrepreneur. By understanding your strengths and weaknesses, you can more easily identify the areas you need to work on, which is also reflected in the areas of the business you create.
Your skills need to match the services you perform – not everyone is made for every type of work and, sometimes, it's worth considering what niche would suit you better. Perhaps, you have good artistic skills and would make money with presentation design on the side, or IT, so your strength and you can become an outstanding developer. Be guided by your heart as well as your skills!
2) Don't focus all your attention on writing a business plan
For some, putting together a business plan allows them to put all their ventures in order and gives a sense of organization. However, the need to write a business plan when you're just starting out and gaining experience can be overwhelming, time consuming, and it takes your focus away from the emerging possibilities such as testing out new markets, clients, partnerships, and lead generation strategies.
As you try to stick to the plan you've established, you may be disappointed during the course of your business if something doesn't go as planned. And the truth is, markets move fast and new approaches emerge. Without a self-imposed plan, you have the flexibility to balance between implementing new ideas with maintaining your original resolutions.
In the beginning, focus on the most important aspects, not to overdo the comprehensiveness of planning. Focus on things that are feasible at the start such as creating your offering, finding your target audience and doing market research. They will allow you to work out the basis on which you will later build your business. 
While planning is a good practice overall, planning too much can distract you from establishing a steady cash flow. At some point, you will have to actually start doing things – optimizing your social media or even setting your sales email signature. Success is made up of small steps!
3) Understand your target market and potential customers
If you want to launch your business, you need to conduct market research and know what to look for when choosing your products and services, what competition you have and what will be profitable for you. 
There's nothing wrong with taking notes, learning the pros and cons from other people in this same business area. By doing so, you can discover the tricks on how to go viral and reach your potential customers.
Also, remember that your ideas might be important, but your business may not succeed if you don't respond to the needs of the market.
It's worth asking yourself questions: Is my target market large? How long will it take to bring my product or service to the market? How many customers are buying similar items? What needs do my target clients have and what makes value for them?
Business models are helpful in expanding your brand and understanding your market. One of the most well-known, innovative models is Osterwalder's business model canvas. It describes a company's strategy for creating value and making profit. Unlike traditional business plans that rely on long-term market analysis, Osterwalder's model benefits from its simplicity. It is easy to create, modify, and implement the ideas you put on the canvas.
It describes nine building blocks: key partners, key activities, value propositions, customer relationships, customer segments, critical resources, channels, cost structure, and revenue streams. By following them, you can create a representation of your business on one page, which will organize your plans and main goals.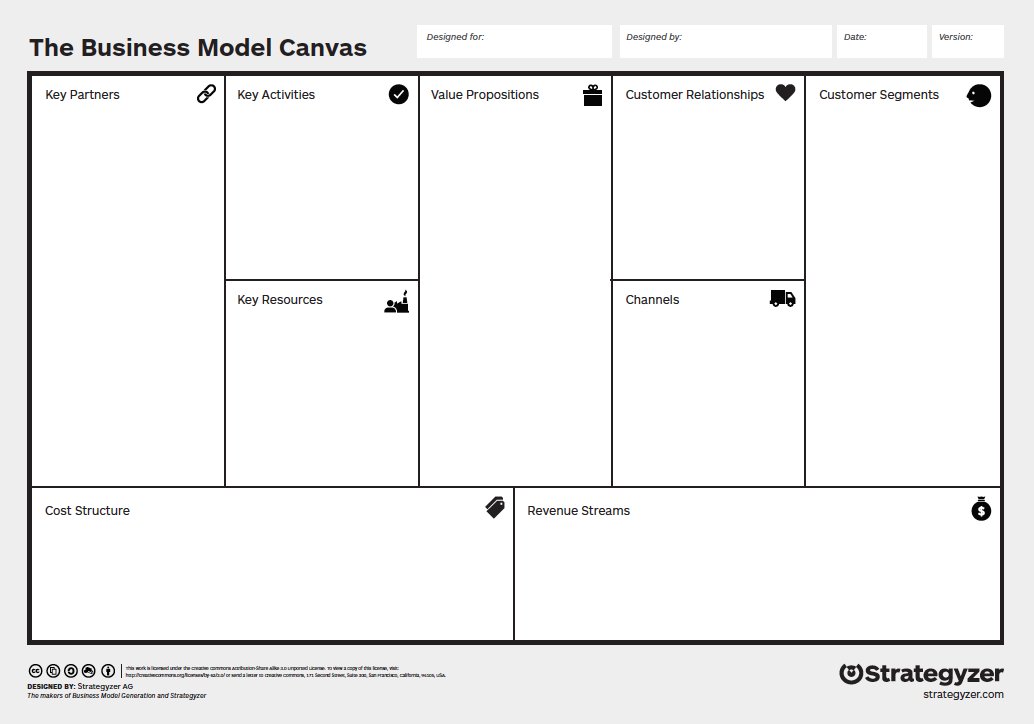 4) Research your competitors
Having competitors is a good sign, it means that the market for your products already exists and you already have potential customers. Take inspiration from your competitors and find out what works for them.
Consider both what your competitors offer and, even more so, what they lack. Research which products they are offering and how they attract customers. Figure out how to stand out from them. Possibly, you will end up finding a highly profitable niche.
In order to get a sneak peek at your competitors' tactics, check out available tools such as SimilarWeb or Ahrefs. They allow you to monitor the keywords by which your competitors' sites are displayed, check what sites build links to your competitors or see if they are using paid ads. Draw conclusions from this data and use it to expand your brand.
5) Brand your business
Already have a business idea and want to launch your first products or services on the market? It's time to take care of your brand image – business name, logo, color scheme or catchy advertising slogan are key elements at the beginning of your business adventure. 
It is worth ensuring that they are original and difficult to imitate. If you have plans to grow and expand your business with new initiatives in the future, it would be a good idea not to build branding only on a specific product line, but to create company trademarks that are more broad and will resonate with your business long-term.
Finding the right company name
If you have no idea where to start, get inspiration from the available tools that generate names or slogans, such as Shopify business name generator or Oberlo slogan generator.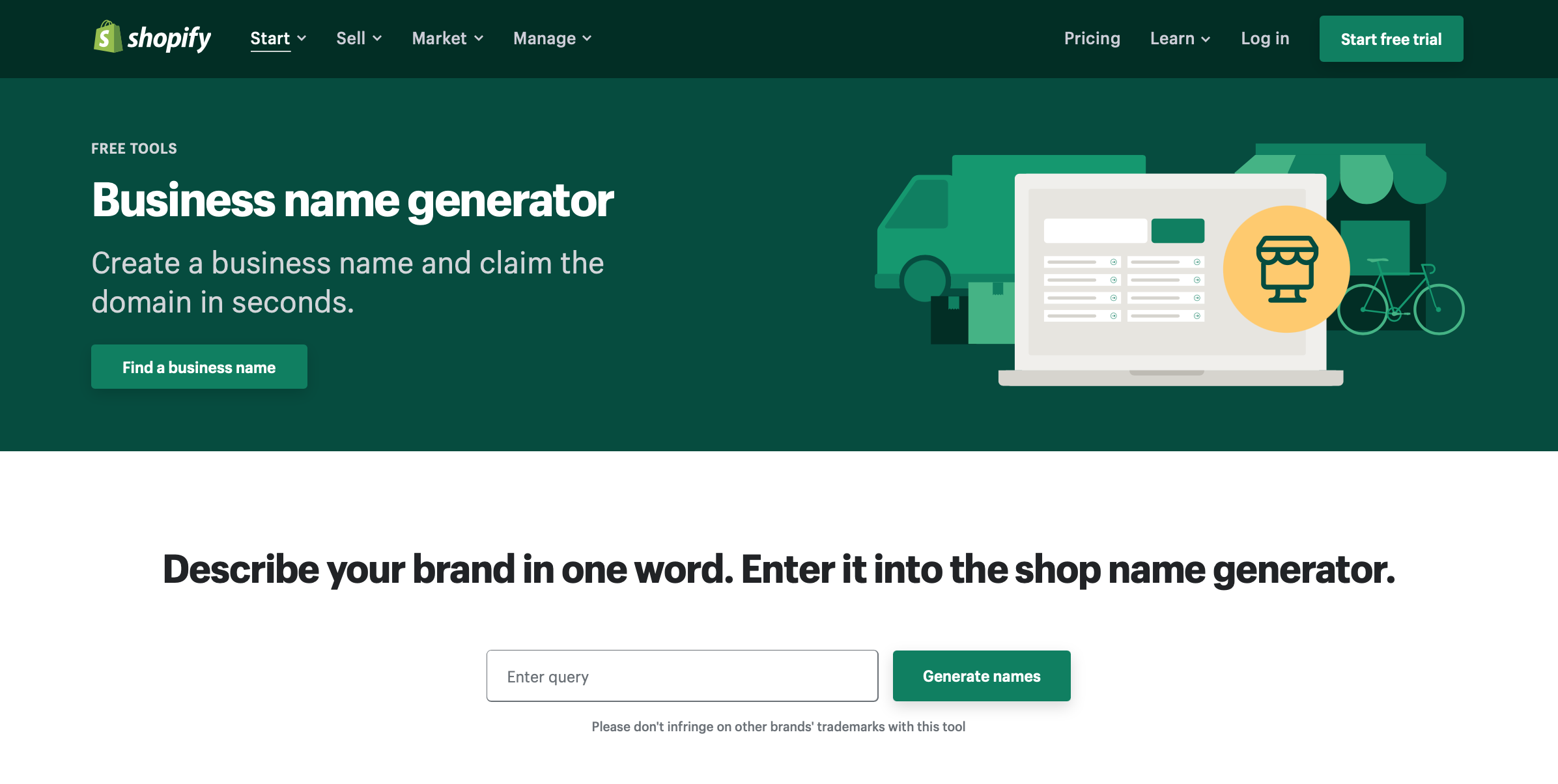 Creating your business logo
When it comes to creating logos, it's worth taking a look at sites like Logo Maker or Adobe Spark and creating professional-looking logos.
Building your business website
You should also take care of the way you want to present your business to the customer - after all, clients need to get to the products you offer somehow. It's a good idea to create a professional website that includes a description and details of your company, a list of the services you offer, and contact information.
According to Cleveroad, prices for website development can start at $8,750 and go as high as $38,000. However, investing in a professional website will make it easier for your customers to access your services. Companies like Elementor or Webflow offer a number of options to help you create your dream website that will help in growing your business.
6) Learn the legal requirements for setting up a small business
Setting up a business also involves familiarizing yourself with applicable laws and legal requirements. Different countries have different requirements and rules. Therefore, it is worth considering which countries are leading when it comes to the convenience of starting and registering a business.
Doing business in the USA
The USA, which is often associated with a developed business market, is one of the leading and most economically developed countries, but starting a business here comes with significant legal challenges. Each of the 50 states has its own specific regulations, procedures and requirements, including different tax rates and administrative costs.
Doing business in the UK
The UK also places high in the rankings, with a high GDP growth and some of the lowest corporate taxes – set up at the rate of 19%. Doing business in this country is especially beneficial for starting businesses as you won't have to pay income tax if you don't earn more than £12,570.
In addition, you can set up a business here in as little as one day and the UK government offers various tax benefits.
Doing business in Switzerland
One of the best countries to start a business is also Switzerland as the corporate tax is one of the lowest in this country – 18%. There are some of the lowest taxes, low unemployment rate and a transparent legal system.
Doing business in Denmark
Scandinavian countries, such as Denmark, also stand high. Here, income tax is 22% and the country uses the so-called flexicurity, which allows for a modern approach to running a business.
You should also take an interest and find a company which can assist you with setting up a business and sort out your taxes. 
With invoicing software, such as InvoiceOcean, you have a smaller margin of error when issuing documents and all your documents are gathered in one place. Additionally, you invite your accountant who can help you with running your books and settling your tax responsibilities.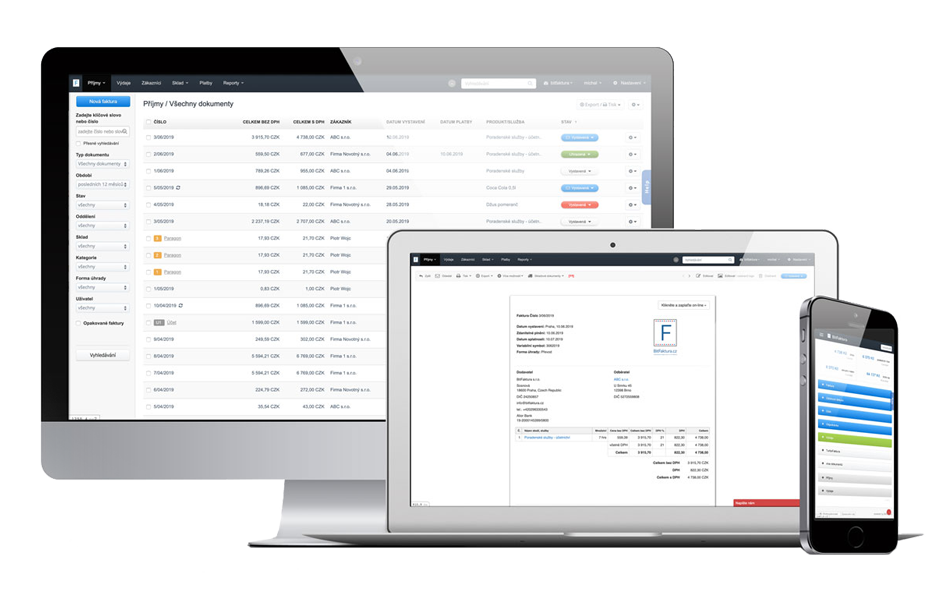 Create your invoices with InvoiceOcean for free!
InvoiceOcean is a simple tool to create and send invoices as well as managing company income and expenses. Forever free for small businesses.
Sign up for InvoiceOcean
7) Manage your money wisely
Handling your cash flow may be challenging, especially once you start. Money management includes planning transactions, tracking income and expenses, and smart investing. To gain a better control of how the money is spent, create estimates. This way, you can determine how much money you need to earn to at least break even.
Also, to cut on spending. Consider working with subcontractors first without hiring employees. Once your business grows and gains stability you can start hiring full-time. This will help you save money and determine what kind of staff you really need. In order to find the right subcontractors, it is worth looking around and asking friends, searching at local events or job boards. Freelancer websites can also prove valuable here  – you can check out Upwork or Freelancer.com. 
Don't give up your current job. At the beginning it may be difficult to start a business without a regular income to support it. Start small – work a few hours during weekends to gain traction with your business and, most importantly, validate your idea.
Choosing a bank account for a company – PayPal vs TransferWise
If you're running an international business, it's also a good idea to make multi-currency accounts convenient for both you and your clients. The leading platforms here are PayPal and TransferWise. Both portals are fast, offer extra options for customers and are easy to use, but they also have a lot of differences when it comes to transactions.
PayPal's advantage may be the speed of sending money domestically and its integrations with eCommerce stores. TransferWise is more transparent and has no hidden fees, it also helps you to save money as this service offers lower currency conversion fees. 
8) Validate your idea
Minimum Viable Product (MVP) stands for an early version of a product that is functional enough and contains the core set of features that users would need to experience the value of your product. If you are planning to launch a new digital product, build an MVP first before you move to building a final product. 
Introduce a beta version to the market, collect feedback that helps to examine the profitability of launching a full product and then introduce a product that reflects specific customer needs.
This allows you to gauge customer interest and determine the demand for your product with a minimal budget.
9) Build your community
Business owners often rely on their loyal customers who keep their business going. 
To gain trust, improve contact with your customers be it personalized newsletters or regular updates via Zoom. Send NPS surveys and collect feedback to learn about your client's needs and check what you can improve. You can also send Christmas or birthday gifts in appreciation of your cooperation with a client.
Inform clients on product updates and make sure their requests are implemented. At InvoiceOcean, we offer our customers the opportunity to make suggestions and give us feedback on our website. This allows us to see what changes we can make to adapt to the needs of our users while keeping in touch with them.
10) Determination is key
Don't worry about not being successful right away and not having answers to all your questions - you can't have everything given to you on a silver platter. However, this is no reason to give up. It's worth talking to other, more experienced people in the industry, your clients or even your family and friends.
Try some solutions and learn everything step by step. If you find it hard to focus on your goal and follow on various tasks, consider using project management tools for small businesses to help you stay organized.
You need to put the knowledge you gain into practice to get valuable experience. It's worth monitoring all activities and learning what works for your business and what doesn't.
---
---
//