InvoiceOcean - Bitcoin accepted here!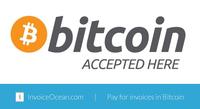 We are proud to announce that due to BitPay integration, you can now make and receive InvoiceOcean payments in BTC.
What does BTC bring to InvoiceOcean?
The ability to pay in Bitcoin is complementary to other forms of payment. Completing transactions in BTC means simplicity, increased speed of execution with a high level of security.
Simple transactions
Allowing your clients to make Bitcoin payments for invoices generated with InvoiceOcean is simple and requires no coding skills. Now any Bitcoin user can make payments for InvoiceOcean subscription plans and offer the same payment method for their clients. BitPay integration allows us to contribute to the popularization and increase the confidence in the new method of payment, which is Bitcoin.
What is Bitcoin?
Bitcoin is an increasingly popular digital currency created in 2008 by a person or group going by the name of Satoshi Nakamoto. Bitcoin market transactions are concluded without the interference of other people, including banks. The number of places and institutions where you  can make payments with this virtual money is gradually increasing. Although this type of solution is still relatively niche, BTC payments are becoming more accessible to ordinary people: some places allow you to pay for pizza, clothing, web hosting or even a house.
Why create an e-currency if we have paper bills?
Think of Bitcoins as a virtual simulation that resembles gold, only that it's digital and has no physical form. Thanks to BTC you can anonymously send funds to anyone you want, while bearing minimal costs. Paper bills can be printed on forever - which can result in inflation that reflects on your wallet. The amount of Bitcoin, in contrast to the traditional money, is predetermined - only 21 million BTC can be produced until year 2140.
Bitcoin exchange rate is determined on the basis of the free market, and independent from institutions that could regulate it. Prices are determined by the Exchange as a result of supply and demand. To prevent the operation of the Bitcoin network, one would have to shut down the entire Internet, which is impossible.
Invoicing and Bitcoins?
Bitcoins can be used to purchase all kinds of goods in a completely analogous way to money. In the same way you can make payments for InvoiceOcean and, more interestingly, for invoices generated with InvoiceOcean. International payments are cheap and easy - Bitcoins do not depend neither on the financial and economic conditions of the country. Users can send each other Bitcoins using mobile applications and computers. BTC are stored in a digital wallet that can be found on the Cloud or your device.
How does it work?
InvoiceOcean and BitPay integration works like a traditional bank transfer. So will your cryptocurrency's virtual transfer. Your BitPay account will cover your InvoiceOcean subscription fee so you can enjoy the program's full functionality without having to worry about the safety of your funds (ensured by BitPay) and data (ensured by InvoiceOcean). Your BitPay wallet works as your virtual online account. It allows you to send and receive Bitcoins, pay for goods and services and store money. If your clients are also cryptocurrency enthusiasts, they will be able to make deposits into your account. Simply take advantage of InvoiceOcean Online Payments. Thanks to the "Pay online" button your customers can quickly make payments. Now also in BTC.
---
---
//