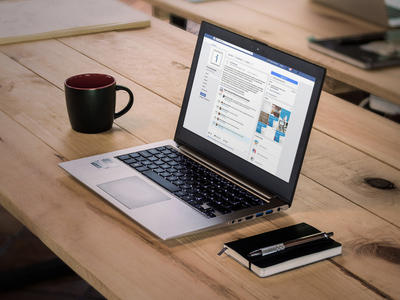 InvoiceOcean - news
10 Invoicing Tips for Small Business Owners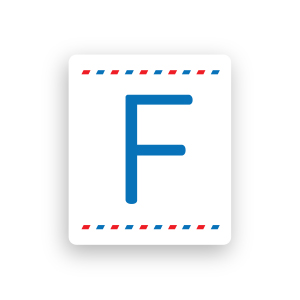 Karolina Seta, 2021-07-26
Invoicing is one of the most important activities that every entrepreneur has to deal with. Invoicing can be tough and not many business owners enjoy doing paper work. However, as every paid invoice ensures your company's cash flow, you can't afford to neglect it.
So how can you make invoicing less painful and spend less time to this repetitive task?
In our guide, you will find tips on streamlining invoicing process without a hassle. Let's get started!
Invoicing - how to deal with it
Invoicing refers to all the processes that are involved in issuing invoices – not only the actual issuing and storing of documents, but also the payment registration or keeping track of deadlines. What should you pay close attention to in order to make sure that you manage invoicing correctly? Check our tested tips:
1. Decide when to invoice
Create and send invoices as soon as the project is finished! This way you avoid mistakes as you write down everything right away. As a result, your client will be fresh out of agreeing with you on a particular transaction and will remember from whom and for what that particular invoice is issued.
In the majority of cases, business owners choose to to prepare invoices before the service is rendered and send it together with the delivery of the ordered goods. It is often used for small, online orders, as you don't have to pay extra for sending the invoice (if you send them through post). By issuing the invoice and demanding payment before providing services you avoid fraud and you won't waste your time on doing things you might not get paid for later.
However, sometimes it is worth considering invoicing after the service has been rendered. It can work well for more complex orders, like large construction projects, that need to be planned in detail - sometimes it is impossible to create an invoice before or during the order is delivered. In this situation you may need to add the cost of sending the invoice.
2. Set clear payment terms
Before you do anything for your client and send out the first invoice, you should establish clear payment terms. This is one of the most important matters when communicating with customers - you don't want them to be confused and not know exactly what they are dealing with.
Some of the most important information that should be included here are details about payment methods, due dates or additional fees that will be imposed if the client delays payment. It is also worth mentioning your product or service warranty terms as well as your return and exchange policy.
Use simple, straightforward language to avoid incompatibility. After all, the client needs to understand the invoice thoroughly in order to pay for it. Avoid outdated phrases and replace them with simple ones that are easier to understand. For example, instead of using 'net 30', use 'due in 30 days'.
By properly writing down your company's terms and conditions, you avoid misunderstandings. In case they do occur, you have written proof that you have made your client aware of your company's policy. Remember to follow these rules and never break them!
Easily set up invoice payment terms with InvoiceOcean
No commitment. No credit card required.
Start 30-day trial
3. Brand your invoices
Do you want your clients to remember you for longer? Make sure your invoices stand out from the rest! By taking care to include important details of your business such as your company's logo, on your invoice, customers will perceive it as more professional.
Additionally, how your clients see your invoices is influenced by whether you take care to use colors, fonts, or templates that are associated with your company. Paying attention to such, it would seem, details, will make you more credible and trustworthy.
4. Use professional invoice templates
Sometimes, clients can end up struggling to identify data on your invoice. To avoid this, ensure that the invoice contains all necessary information about the transaction and business details. It is also worth taking care of the appearance of the invoice, so that it is clear and easy to read. This will make you look professional and your customers will remember you for longer.
With pre-set templates, the process of filling out invoice details is much simpler. You should only enter the relevant information and send it to your client. This way, you won't have to create a new template each time and will be able to produce a standard invoice in less than a minute!
Templates in InvoiceOcean include everything you need to get paid. Choose the version that suits you, download it, fill it in and send it to your client!
Also, remember to double-check whether you have entered the most important data correctly such as name and address of both your company and your client, invoice number, payment and due dates, method of payment, product description (quantity, price, tax), and final price. It's also a good idea to add your contact details to the invoice so that if there are any issues, the client can easily contact you.
Learn more about creating a professional invoice.
5. Invoice electronically
It doesn't matter if you run a big company or you are just starting out with your business. Even if you are a small business owner, it is worth checking out an invoicing software such as InvoiceOcean. Managing paper invoices is time-consuming as they can easily get lost.
Using invoicing software, you can keep and access your documents from one place – nothing will go through the cracks! It's also harder to make mistakes - you can save the data you once entered into the system to never enter it again.
It's also worth taking advantage of the many additional options that such systems have to offer. Tired of late payments? Send your client an automated payment reminder. Made a mistake on an invoice? No problem, you can always correct it by entering updated data in a few moments. Additionally, you can issue bilingual and recurring invoices, automatically number invoices sequentially, or give your accountant access to your account.
6. Copy an existing invoice
Do you send out many similar or identical invoices? Instead of wasting your valuable time and creating a new invoice each time, duplicate an invoice that you have issued in the past. With InvoiceOcean you can create a similar invoice (with updated dates and numbering) with a single click and choose whether you want to issue it to the same or a different recipient.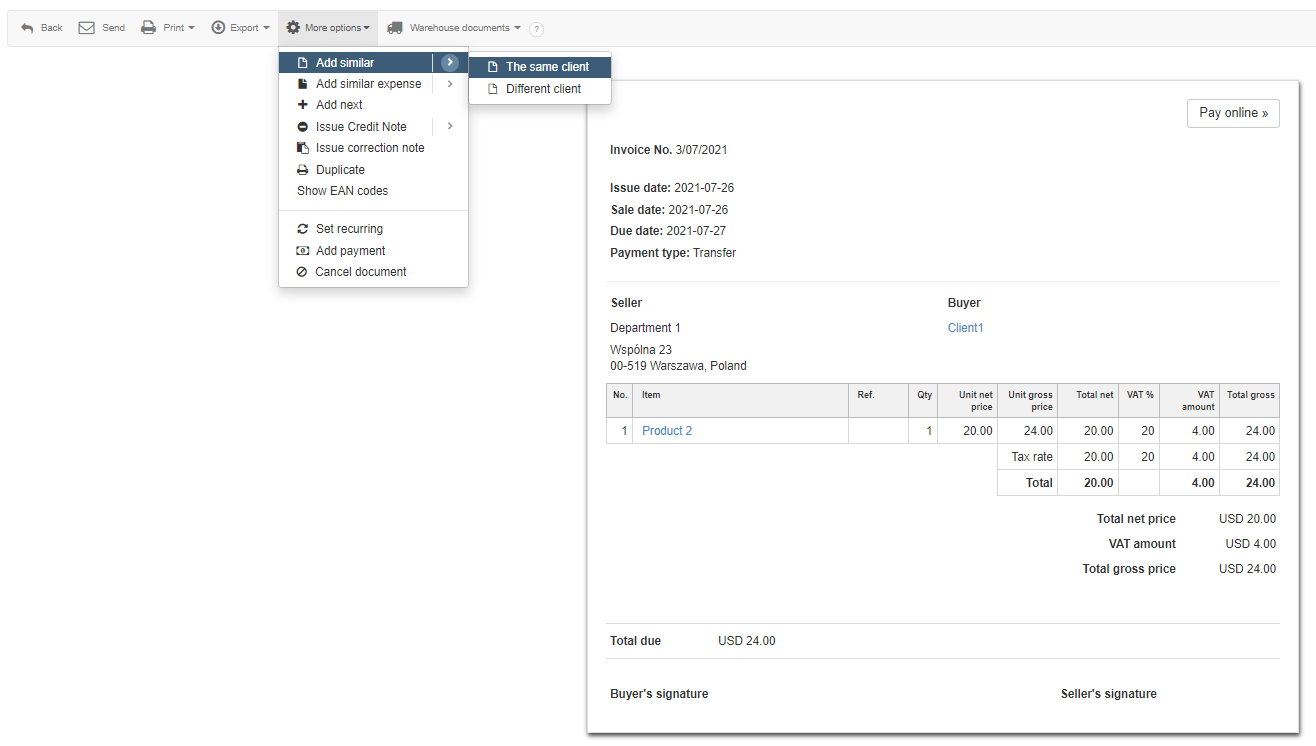 Issuing similar invoice in InvoiceOcean
If you often send the same invoices to the same clients, it's worth automating this process and setting up recurring invoices.
7. Allow multiple payment methods
Your payment method preferences of your clients can range from paying by check to quicker "Pay now" options. By offering a large choice of payment methods, clients will be able to choose the method that suits them best. This will increase the likelihood of getting paid on time. Consider methods such as cash, check, credit cards or online transfers.
You can also speed up the payment by adding a "pay online" button to your invoice. The easier it is to pay for the invoice, the less chances are that your clients will postpone or forget about paying for your invoice.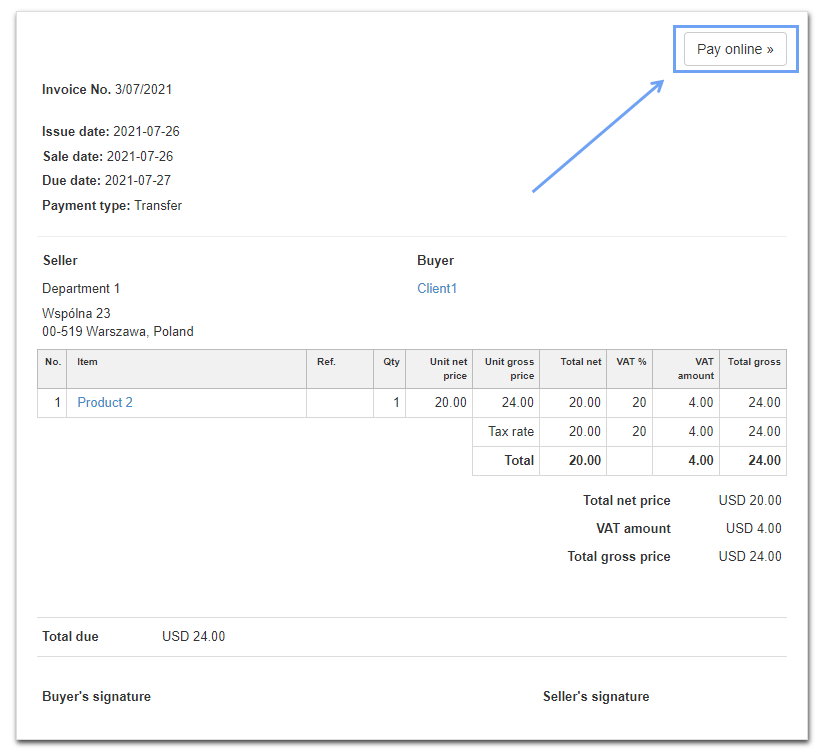 "Pay online" button in InvoiceOcean
8. Follow up
The payee is responsible for any financial damages caused by the payment delay. Your company's cash flow depends on timely payments, so it's worth claiming them on time.
If the due date has passed, you can send the customer a reminder message. If the client still hasn't paid, it's also worth contacting them by phone. Also, double-checking the recipient's information and resending the invoice can be a good idea as the invoice may have been sent to the wrong mailbox or the recipient may have lost it.
If your clients continue to fail to pay, it is worth imposing additional charges. Usually, such charge amounts to a few percent of the total price. Remember, however, that this cannot come as a surprise to the customer. It should ideally be included in your company's terms and conditions. If none of these methods help, consider legal action as a last resort.
9. Try new solutions to get paid faster
Have you done your job, sent reminders and contacted your clients and yet, they still haven't paid? You need to realize that you deserve money for every service you provide. In case of small businesses this is extremely important - even one day's delay in payment can disrupt your cash flow. And after all, you shouldn't have to pay out of your own pocket.
It's worth considering what solutions are right for you. Perhaps splitting the payment into installments or offering to pay part of the total price in advance will encourage your customers to pay. If someone has already paid a part, they will be more willing to pay the whole amount. Granting bonuses for quick payers such as a 2% discount can be a solution if they pay in the first week after the invoice is issued. This will get them into a habit of paying on time in the future.
10. Ask your accountant for help
Sometimes dealing with the paper work on your own can be tiring and time-consuming. That's why it's a good idea to consult your accountant - after all, two heads are better than one!
As financial experts, accountants can not only help you analyze your company's transactions, but they can also help deal with late payments.
With InvoiceOcean, you can give your accountant access to your account so that you can cooperate on one platform and manage your company's invoices and finances together.
Giving your accountant access to your account in InvoiceOcean
What kind of invoices should you issue?
Consider what type of invoice is most appropriate for the services you provide. We present the most common types:
- Sales invoice
A sales invoice is the most popular type of invoice. It confirms the sale of goods and the transaction. Usually, the sales invoice contains a description of the product sold, the amount owed, and the payment deadline.
- Proforma invoice
A proforma invoice is not a sales document and that is why there is no obligation to pay for it. Usually, a proforma invoice is sent to the customer before sending products or delivering services. It is used to inform the client about the price of future transactions, the possibility of an advance payment or prepayment.
- Recurring invoice
You create recurring invoices for regular payments. If you send invoices to the same clients, you should give recurring invoices a try. They work great if the client pays you every month, for example, by paying the subscription for your services.
- Prepayment invoice
A prepayment invoice is designed to confirm the payment of an advance/prepayment before delivering goods. This invoice confirms that the prepayment has been received in part or entirely. It is generated to secure the transaction.
- Final invoice
The final invoice is created when the project has been completed to request a payment. You should normally use it when your client hasn't paid a full price for the project before. Final invoice indicates that no further invoices will be sent.
Well managed invoicing mirrors well managed business
Without proper invoicing all your work can go to waste. Confused customers not knowing how to pay for services rendered is something every business would like to avoid. By managing your invoicing well, you will ensure that your clients pay their invoices promptly and you will maintain a steady cash flow. Implement our tips today and manage your invoicing like a pro!
Create your invoices in less than 30 seconds with InvoiceOcean
Issue invoices for free. No credit card required.  
Start 30-day trial