Top 7 Small Business Accounting Tips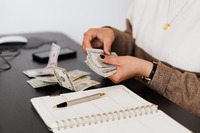 Running a small business is indeed no small feat. Most of the time, you have a lot in your place; planning for the marketing campaigns, designing flashy websites, sending emails for the prospects. It does not stop there. You also need to make sure that you manage your cash flow and budget well. 
After all, a business is so much more than getting your products sold and gaining new customers, isn't it?
Small business accounting might sound quite daunting and complicated, especially if you don't have any experience in the field. 
According to the stats, more than 20% of new small businesses don't make it past year one, and as few as 30% of small businesses will last for at least 10 years after their launch.
One of the major reasons why some small businesses couldn't last long is poor management of their business finances. To help you avoid that, we've compiled some actionable and light-hearted small business accounting tips.
#1. Separate Your Business and Personal Bank Account
The first thing you should pay attention to while managing your business finances is to make sure that you do not mix up your business and personal expenses. In other words, you need to separate your business and personal bank accounts.
By doing so, it would be much easier for you to track your business profits and costs -- whether your business has a decent income or spends too much. Therefore, you can understand your overall business's financial health.
Managing different bank accounts for your business and personal expenses can also help you limit legal exposure to business debts if you have a limited liability company (LLC) or corporation.
#2. Set Clear Budgets
One of the first steps in creating a business plan is coming up with clear goals and budgets. You must understand how much money you have and how much of it should be spent on a certain area or project.
Having such a clear budget also helps you understand your priorities. It makes it easier to know what your business actually needs, or which ones are just simply "nice-to-haves." It is no wonder that a report finds over 60% of businesses with excellent financial health start by having defined and managed budgets.
#3. Utilize Online Tools
For many small business owners, accounting is basically not among your skillset. Thanks to the internet, though. Now, you can get a solid understanding of how to manage your business finance effortlessly. You can teach yourself how to do basic accounting simply by watching tutorials, explainer videos, join webinars, or read e-books. 
When you finally understand the basics, you can utilize online tools to help you get tasks done. There are tons of accounting online tools that can organize the process of tracking all income and expenses, allow you to send and pay invoices, and generate reports. 
That way, you have the information you need to complete financial statements and make accurate business decisions. Online tools also automate your mundane tasks of accounting that are time-consuming and error-prone if completed manually.
For example, with InvoiceOcean, an online invoicing software, you can create and store invoices, and accept online payments, and send reminders for overdue payments on autopilot.

#4. Always Update Your Books
Having all the receipts and invoices highly piled up on a desk is a nightmare for many business owners. You will be having a backbreaking job to organize them all. Therefore, you need to get the necessary paperwork in order to keep your books up to date.
Without keeping the books up to date and current, it would be quite challenging for you to have a clear picture of your business's financial condition and state. The best and quick way to do this is by leveraging online tools. 
Many online tools allow you to integrate automatically with your bank accounts. That's how they automatically retrieve daily bank transactions and statement files. You can screenshot them and create a separate document. So, you don't have to download your credit card and bank statements and manually import them as CSV (Excel).
#5. Pay Attention to Major Expenses
When running a business -- regardless of the size and the industry it belongs to, computer and software upgrade or maintenance, labor costs, equipment replacement, and tax deadlines should come as no surprise.
In this case, you should pay attention to those certain major expenses. By planning ahead and anticipating it, you can avoid a cash crunch even in the slow months. Well-preparation for high-cost expenses also helps you get a better budget and find ways to control these expenses.
#6. Create Financial Plans for Future
Nobody knows what will happen to your small business next month or years. Even if you might financially sound today, it doesn't guarantee you to stay financially stable in the future.
By generating financial projections for future years, you can estimate cash flow and determine when to change pricing or production plans in unusual situations, such as the sudden global pandemic. It helps you prepare for sudden or unavoidable events so your business can survive and thrive. 
#7. Hire an Accountant
If you have zero knowledge of business accounting and all those points seem too painful for you, one of the easiest ways to manage your business finances is to hire a professional accountant -- even if it's temporary. 
It's always better to have someone that has in-depth experience and is dedicated to that process. An accountant is always better equipped to know about potential fees, accounting loopholes, or additional tax deductions for which your business might be eligible. They might also help you with file taxes and help you with strategic planning.
While small business is prone to having a shoestring budget, you can always find some freelance accountants that do not cost you that much (compared to real professional ones). You can simply hire freelancers on Fiverr, PeoplePerHour, Truelancer.
Final Thoughts
All those handy best practices above can help you prevent the cash flow issues that are to blame for many business failures. No matter how many products you sell in a day, if you do not properly manage your business finances, it would be so hard to measure your business success, let alone making improvements.
By taking extra efforts in managing your business finances and understanding basic accounting, you can ensure your business is financially healthy now and for many years to come.
Author's Bio:
Andre Oentoro is the founder of Breadnbeyond, an award-winning explainer video company. He helps businesses increase conversion rates, close more sales, and get positive ROI from explainer videos (in that order). 
Twitter: @breadnbeyond
Email: andre@breadnbeyond.com 
---
---
//