What to Do When a Client Doesn't Pay – 6 Hard & Soft Solutions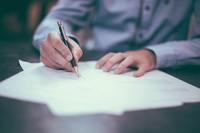 When starting a business or working as a freelancer, sooner or later, you will have to deal with late payments and customers who don't pay at all. 
Depending on how much your client owes you, you should choose a different method to collect overdue payments. 
In some cases, it doesn't make sense to consider working with a lawyer and preparing for a court sitting. 
In this article, we show soft and hard methods and explain when you should use which to finally get your money back.
1. Set expectations from the beginning
Prevention is better than cure also with payments. To avoid late payments, you have to define payment terms, payment schedule, deadlines, and when you charge late fees before you even start working with a customer.
You have to include these provisions defining payment conditions in your business contract and talk through the details with your client before a project kick-off. This is a great way to set the right expectations right from the start of your cooperation. You increase the chances for a client to pay for an invoice. 
2. Remind about overdue payments
Instead of writing emails to clients reminding them to pay an invoice, use an invoicing software that helps automate this process. 
With an invoicing tool, you can define when emails should be sent. For example, you can choose to send them one day after the due date of payment.
You can use a default reminder message or modify it. The most important thing is you do it only once. Once you set up reminders, they are sent automatically. 
Here is a reminder template you can use:
3. Make prepayment a requirement
Taking prepayments is a good way to test a new client. If they refuse to pay 30%-50% of the project fee as an upfront payment, it can be a bad signal – they might end up not paying in the end.
When communicating upfront payments and full prepayment, explain the conditions under which clients are refunded – for example, when for some reasons, you don't start the work on the project or your client is not satisfied with the outcome. 
Setting up payment milestones is another way to get customers to pay on time and make payments more predictable. In your contract, you can define the milestones and fees for each of them. Here is an example of how you can plan such milestones and a payment plan. You can even use an Excel Spreadsheet to do it.
4. Track when invoices were sent
If you are not getting paid even though you have sent an invoice and a few invoice reminders, check the status of an unpaid invoice before you confront a client with questions. 
A professional invoicing system should show you invoice history with the timestamps of where an invoice was created, edited, to whom it's been sent, and if there have been any technical errors preventing the invoice from reaching a client's inbox.
It can happen you forget to send an invoice though you have created a draft. To avoid such situations in the future it's worth getting into the habit of creating and sending invoices right after you complete a project.
If you are not sure if your client has received an invoice at all, you can always call or send an email.
5. Learn about the reasons
If this is the stage when nothing really helps, before calling a lawyer or making other steps, try to find out why your client hasn't paid yet. Knowing the reason for a delayed payment will help you find the right solution for the problem. It's important that clients are honest with you and can share a hard truth, It will be much easier to look for a resolution together.
What to do when nothing works? 
So you have learnt about some soft tactics to get clients to pay overdue invoices. While effective, these strategies won't work with the customers who act in bad faith and whose intention is running away with project deliverables in the first place.
There is not much you can do by yourself to manage a business conflict. If the conflict with your client escalates, you have to rely on a lawyer and legal action, especially if your customer owes you a lot of money.
Before we move to discussing the possible options of business conflict resolution in court or through third parties that help mitigate such situations, think about whether or not you want to work with similar problematic clients who always pay late.
Perhaps, you already see some red flags with some of your clients who always pay after the due invoice date or keep noticing the same pattern in behavior of problematic clients.
In some cases, it's worth saying "no" at the right time. Weigh out pros and cons of working with a difficult client. Understand when you should suspend cooperation with a client who never pays on time.
Now, let's see what tools you have to deal with unpaid invoices if your clients owe you quite a lot of money – your last resort.
Legal action to deal with past due payments – hard solutions
1. Collection agencies
These institutions specialize in recovering funds that are past due. The work of collection agencies is regulated by the Fair Debt Collection Practices Act (FDCPA). There are certain binding rules that define what funds these agencies can collect and what ones they can't.
If a debtor doesn't pay, a collection agency can update their credit report's status that will significantly impact an individual's credit score.
However, if your client finally pays, you will have to pay a collection agency a percentage from the total amount of money you receive from your client. The collection agency's rates vary and they should be specified in the contract you sign with them.
2. Factoring services
Sometimes, you just don't have time to wait until the court reviews your case and gets a debtor to pay. When you need to retain cash flow, consider using factoring services that will give you the money your client owes you, while you are waiting for the court's decision. Such services charge you a certain fee.
3. Hire an attorney
It makes no sense to hire an attorney to regain $200 in debt from a client. However, when the debt is too big to ignore, it's worth fighting over regaining the money.
If your client owes you thousands of dollars, consider working with an attorney and looking for help from an expert, instead of writing court letters on your own.
4. Small claims court
This solution is cheap and quick in the US. Depending on the state where you conduct business and reside, your client needs to have a minimum debt threshold for you to be able to file a case in small claims court.
To use a small claims court, you don't need a lawyer, so in less complicated cases you can avoid some expenses. You can prepare and file the case on your own.
Over to you
There are certain situations where it is not worth your time and energy to fight for money, such as $200 invoices – it's worth learning a lesson on bad clients, suspend cooperation, and moving forward with your business. 
However, if your client owes you considerable more money, there are methods that will help you regain the money. Before you proceed with the hard methods, consider applying the soft once such as sending invoice reminders. In some cases, they will help regain money before you decide to hire a lawyer.
---
---
//